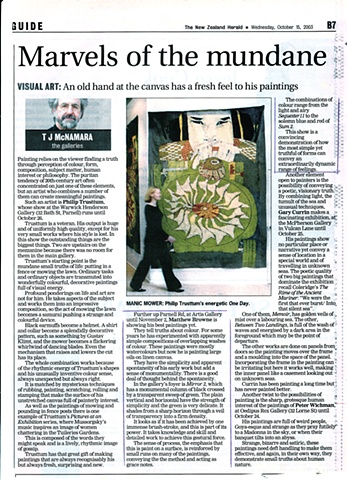 'Marvels of the Mundane'


TJ McNamara - New Zealand Herald - Arts - Review of 'Matthew Browne - Paintings' - Artis Gallery -15/10/2003
______________________________
Further up Parnell Rd, at Artis Gallery until November 2, Matthew Browne is showing his best paintings yet.
They tell truths about colour. For some years he has experimented with apparently simple compositions of overlapping washes of colour. These paintings were mostly watercolours but now he is painting large oils on linen canvas. They have the simplicity and apparent spontaneity of his early work but add a sense of monumentality. There is a good deal of thought behind the spontaneity.
In the gallery's foyer is 'Mirror 2', which has a monumental column of black crossed by a transparent sweep of green. The plain vertical and horizontal have the strength of simplicity and the green is very delicate. It shades from a sharp horizon through a veil of transparency into a firm density.It looks as if it has been achieved by one immense brush-stroke, and this is part of its power. It takes knowledge and skill and detailed work to achieve this gestural force.
Small runs on many of the paintings, conveying the method and acting as grace notes, reinforce the sense of process; the emphasis that this is paint on a surface.
The combinations of colour range from the light and airy 'Sequester 11' to the solemn blue and red of 'Sum 2'.
This show is a convincing demonstration of how the most simple yet truthful of forms can convey an extraordinarily dynamic range of feelings.
[Like]