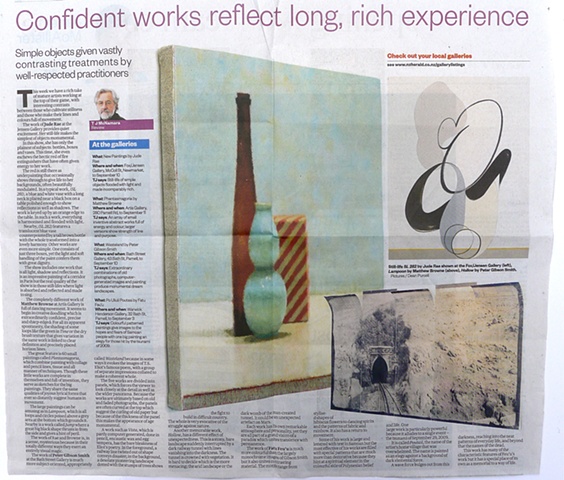 'Confident Works Reflect Long, Rich Experience'


TJ McNamara - New Zealand Herald - Arts - Review of 'Phantasmagoria' - Artis Gallery - 27/08/2011
______________________________
Matthew Browne at Artis Gallery is full of dancing movement. It seems to begin in creative doodling, which is extraordinarily confident, precise and sharp-edged. For all its apparent spontaneity, the shading of some loops like the green in 'Time' or the dry brush texture that gives variation in the same work is linked to clear definition and precisely placed horizon lines.
The great feature is 60 small paintings called 'Phantasmagoria', which combine painting with collage and pencil lines, tissue and all manner of techniques. Though these little works are complete in themselves and full of invention, they serve as sketches for the big paintings. They share the same qualities of joyous lyrical forms that ever so distantly suggest humans in movement.
The large paintings can be amusing as in 'Lampoon', which is all loops and circles poised above a grey area at the bottom which grounds it. Nearby is a work called 'Jump' where a great big black shape thrusts in from the side and gives a hint of peril.
[Like]