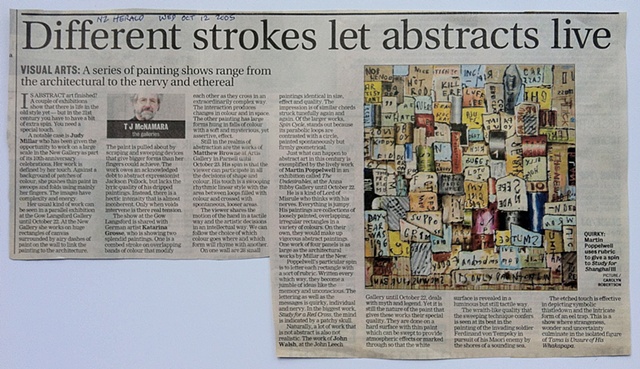 'Different Strokes Let Abstracts Live'


TJ McNamara - New Zealand Herald - Arts - Review of 'Rollercoaster' - Artis Gallery - 12/10/2005
______________________________
Still in the realms of abstraction are the works of Matthew Browne at Artis Gallery in Parnell until October 23.
His spin is that the viewer can participate in all the decisions of shape and colour. His touch is a swooping rhythmic linear style with the area between loops filled with colour and crossed with spontaneous, looser areas.
The viewer shares the motion of the hand in a tactile way and the artistic decisions in an intellectual way. We can follow the choice of which colour goes where and which form will rhyme with another.
On one wall are 28 small paintings identical in size, effect and quality. The impression is of similar chords struck tunefully again and again. Of the larger works, 'Spin Cycle', stands out because its parabolic loops are contrasted with a circle, painted spontaneously but firmly geometrical.
[Like]